This is a Sponsored post written by me on behalf of Avocados from Mexico. All opinions are 100% mine.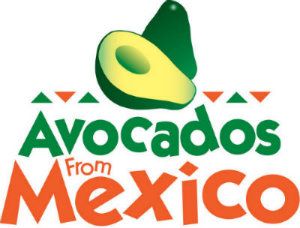 —
Avocados are one of my favorite foods ever! They are delicious and creamy and packed full of healthy unsaturated fat and nearly 20 vitamins and minerals. I like to add them to salads, layer them on sandwiches and just eat them plain.
I have showcased their awesomeness (and deliciousness) a few times on Nutmeg Nanny.
Shrimp with Avocado and Mango Salsa
If you love avocados as much as I do then you are in luck! The awesome folks at Avocados from Mexico have come up with a fun Share the Avocado Love Facebook app! You can send virtual avocado gifts to your friends, get ringtones and even fun wallpapers.
If you really want to show off your love for avocados then be sure to hit up the Avocados from Mexico Cafe Press store. Look at this adorable tote bag I received from the store! It's my new favorite grocery bag.
Also because I have amazing food blogger friends I want to share some of their totally delicious avocado recipes:
Dips:
Black Bean and Avocado Dip
BLT Guacamole
Guaca-mame
Indian Inspired Guacamole
Broc-a-mole
Mango-Lime Guacamole
Appetizer:
Avocado Deviled Eggs
Avocado Fries
Guaquitos – Guacamole Taco Rolls
Soup:
Broccoli Cauliflower Avocado Soup
Chilled Avocado Cucumber Soup
Avocado Corn Chowder
Salad:
Avocado and Crab Salsa
Chicken and Avocado Salad
Avocado and Berry Salad
Blood Orange, Kale and Avocado Salad
Avocado and Cilantro Dressing
Main Course:
Fresh Corn Cakes with Avocado and Goat Cheese Salsa
Corn, Avocado and Black Bean Tostadas
Creamy Avocado Pasta
Avocado Eggs Benedict
Avocado Crab Roll with Sour Sauce "Caviar"
Bread:
Avocado Zucchini Bread with Olive Oil
Guacamole Bread
Vegan Avocado Scones
Avocado Lime Compound Butter
Desserts:
Avocado Chocolate Truffles
Avocado-Chocolate Pudding
Vegan Chocolate Avocado Cake
Avocado Ice Cream
Avocado Pie
Spumone Pudding Cake