This Costa Rica travel guide will show you where to stay, eat and have fun! If you have never been to Costa Rica you're going to want to book a trip ASAP!
This post is sponsored by Small Distinctive Hotels of Costa Rica and ENRoute Communications. As always all opinions are 100% my own.
Back in September, I teamed up with Small Distinctive Hotels of Costa Rica (with Julie of The Little Kitchen) to showcase not just the beauty of Costa Rica but the amazing hotels and food of Costa Rica. I love traveling but I love it, even more, when I'm well fed. Costa Rica did not disappoint on this front and I loved everything from the open air rooms to the wildlife to the amazing food and coffee I ate and drank every. single. day.

Day One
Words I would use to describe this hotel: great for families, close to activities and wildlife and fits in with nature.
Julie and I met up in Atlanta and flew to Costa Rica together. It's always nice to have a friend on the plane so it was a great way to kick off the trip.
We were met at the airport by Mauricio who works with Small Distinctive Hotels of Costa Rica. He was super friendly and accompanied us and drove us around for the whole trip. Since it was just day one they knew we would want some time to relax so they booked us at the lovely The Peace Lodge and let us relax and just enjoy the resort.
When we arrived it had just started to rain so Julie and I walked around and took a few pictures of the resort and got settled into our room. It's hard to pick what I loved most about the room but I think the fact that there was a jacuzzi on our balcony really made me happy. Plus they had hummingbird feeders on the balcony and it was so relaxing to sit on the balcony and watch the birds.
The hotel has a few different restaurants but for breakfast and lunch we dined at Tortillas and for dinner, we dined at Vista Poas. Breakfast was buffet style and I filled my plate to the brim. For lunch, I ate everything from warm cheesy tortillas to super stuffed empanadas. We only had one dinner at the Peace Lodge but it was an amazing multiple course meal that was paired with wine. We had everything from cream of papaya and curry soup to hearty risotto.
We only stayed one night The Peace Lodge but before we left we made sure to check out the La Paz Waterfall Gardens. They are on the property of the hotel it's a must see if you're at the hotel. Obviously, they have waterfalls (there are steps to get to the waterfalls so if you're not great with steps sadly you might have to skip this) but they also have jungle cats, tropical birds, snakes, a butterfly garden, frogs, monkeys, and SLOTHS!
For real, I started crying when I saw the sloths. So. Much. Cuteness.
Plus you can hand feed hummingbirds AND gets personal with butterflies. It's the BEST!
Day Two and Three
Words I would use to describe this hotel: relaxing, luxurious and peaceful.
This hotel was all about relaxation and I was 100% about that. Julie and I each had our own room and it was spacious, air-conditioned and had a large pool right outside our rooms. Because the rooms were in a building with only 4 other rooms the pool almost felt private.
Plus, from our pool area, we saw an iguana, dart frog, and a coatimundi!
I'm going to be 100% honest with you. We spend our full day here totally relaxing. We hung out by the pool, ordered room service and really enjoyed the hotel.
Our first dinner at the hotel was hosted by the owner at his private home. After a few drinks we starting laughing and talking and it felt like having dinner with old friends. We even got to go into the kitchen and do a little cooking!
Unfortunately, it rained both nights we were at the hotel so we missed the sunset drinks at the amphitheater BUT I have seen pictures of the experience and it looks amazing!
Day Four and Five
Hotel Belmar
Words I would use to describe this hotel: quiet, enveloped in nature, and peaceful
I had a friend who stayed at Hotel Belmar a few years ago and LOVED it so I was super excited to get there and settle in. Not only was the hotel gorgeous but the food was outstanding. Super fresh, locally sourced and they have their own brewery. YES!
This is the type of hotel you can go to and actually sit in silence and enjoy the cloud forest.
For our full day Hotel Belmar we traveled to their farm where we were able to see where their cheese is made, visit their chickens and take a fun little hike through the woods where we stumbled upon wild sugar cane (complete with a sugar cane pressing demonstration and drink! ) and coffee.
I could have spent all day in the woods. It was such a gorgeous walk. The best part is that if you're staying at the hotel you can set up the same tour we did!
After our walk through the woods, we got to visit the hotel on-site greenhouse and garden and had a private lunch. In fact, we picked the salad we ate from the delicious greens available in the garden.
Talk about fresh!
My favorite memory from Hotel Belmar is sitting on my balcony watching the nighttime cloud forest come alive. I did a time lapse video that was super fun!
Day Six
Hotel Grano de Oro
Words I would use to describe this hotel: fun, luxury in the heart of a city, and relaxing.
I loved ending our stay in Costa Rica at this hotel. It was in the heart of the San Jose but still had that classic luxury hotel feel. We didn't have a ton of time at this hotel but we were able to have dinner, breakfast and a little room service.
Plus, while we were at the hotel we were able to head out on foot for a market tour! When I was in Chile I did a market tour and I LOVE them! Not only do you get to see all the amazing produce but the hidden food gems are the best too.
We stopped at a coffee shop in the market and devoured a delicious banana leaf wrapped tamale and a classic Costa Rican coffee. It was pure happiness.
Oh, and those are bulls balls. I KNOW! I couldn't not get a picture of that.
Back at the hotel, we had an amazing dinner that lasted HOURS and we dined on everything from homemade pasta to perfectly cooked beef to the most amazing selection of cheeses.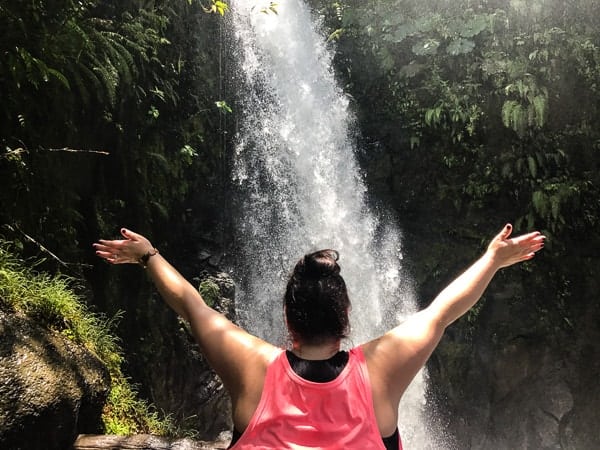 Final thoughts about Costa Rica:
Would I go back? In a heartbeat. I feel like there is SO much more to be seen.
What is Small Distinctive Hotels of Costa Rica?

It's a group of 9 luxury boutique style hotels that are spread out across Costa Rica. All the hotels must meets the same standard which ranges from being the hotels to be exclusive to the area, maximum of 60 rooms, must have an owner that is involved in the operation of the hotel, must hold certifications in sustainable tourism, have a SPA, have a restaurant, no casinos and be in business for at least a year.

As you can see this list is pretty comprehensive and would knock a lot of "big" hotels right off the list. I loved teaming up with a hotel group that truly cares about the country and their guests.
How was the weather? It was super warm during the day and it rained most nights. However, if you go later in the year it doesn't rain as much.