These crispy spiced chicken shawarma wraps are the perfect addition to your weekday supper routine. Packed full of chicken, garlic mayo and pickles.
Growing up we were a meat and potato type of household. Lots of meatloaf (still my favorite), spaghetti, steak and lots and lots of potatoes. What can I say, I love potatoes.
So, when I moved to New York it was like a total change. I had never heard of half the food I saw cooking on the streets of New York. Shawarma? Halal? Falafal? Pad Thai? Seriously. I'm pretty sure I was deprived.
So I was super excited to make this chicken shawarma for Mid-East Feast. I knew I would love it and had never made it before. I was a little hesitant about the directions that said I should "crisp" the chicken after baking. Wouldn't it get dried out?
The answer is no. It was amazing and I apologize to Faith for even doubting her. What do I know about Mid-East cooking? I grew up eating things like pierogi casserole. Google it.
I hope you enjoyed the second post to our Mid-East Feast extravaganza. I definitely recommend making this for dinner…or lunch…or even breakfast! I won't judge. I love dinner for breakfast. I also love breakfast food for dinner. I'm an odd duck.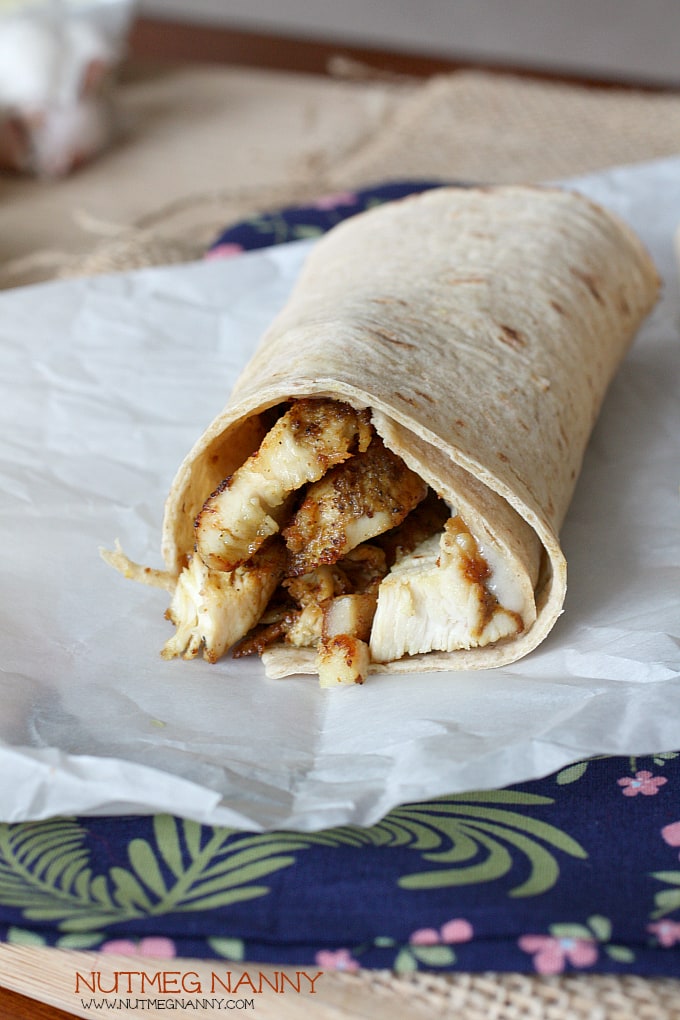 Spiced Chicken Shawarma Wraps
These crispy spiced chicken shawarma wraps are the perfect addition to your supper routine. Packed full of chicken, garlic mayo and pickles.
Yield: Serves 8
Prep Time: 30 minutes plus marinading time
Cook Time: 1 hour 15 minutes
Total Time: 3 hours 45 minutes
Ingredients:
1 batch Shawarma Spice Mix
½ cup (125 ml) plain yogurt
1½ tablespoons fresh lemon juice
3 large cloves garlic, crushed
1½ teaspoons salt
2 lb (1 kg) boneless, skinless chicken breast
2 tablespoons olive oil, plus more for sautéing
16 flatbreads
Garlic Mayonnaise (page 24)
Pickles (page 27)
For Shawarma Spice Mix:
2 teaspoons ground cumin
2 teaspoons ground coriander
¾ teaspoon ground black pepper
½ teaspoon ground ginger
½ teaspoon ground allspice
¼ teaspoon ground fenugreek
¼ teaspoon ground cardamom
¼ teaspoon ground cloves
¼ teaspoon ground sweet paprika
¼ teaspoon ground turmeric
1/8 teaspoon ground red pepper (optional)
For Pickles:
1 cup (250 ml) hot water
2 tablespoons salt
2 teaspoons sugar 7-10 Persian or Japanese cucumbers washed and ends slightly trimmed
2 cloves garlic, peeled
Purified water, to cover the cucumber
½ teaspoon oil
Garlic Mayonnaise
2 cloves garlic, crushed in a mortar and pestle with ½ teaspoon salt
2 large egg whites or 1 large egg
1 cup (250 ml) oil
1 tablespoon lemon juice
1 tablespoon cold water
Source: Recipe courtesy of An Edible Mosaic: Middle Eastern Fare with Extraordinary Flair by Faith Gorsky (Tuttle Publishing; Nov. 2012); reprinted with permission.
Directions:
For Spiced Shawarma Chicken Wraps:
Prepare the Shawarma Spice Mix.
Combine the spice mix with the yogurt, lemon juice, garlic, and salt in a large bowl. Add the chicken and toss to coat. Cover and refrigerate 2 to 24 hours.
Preheat oven to 350°F and spread 1 tablespoon of oil on the inside of a large baking dish.
Scrape off any excess marinade from the chicken with your hands. Starting in the center of the oiled dish, arrange the chicken so that it overlaps, and drizzle the remaining 1 tablespoon of oil on top. Bake (uncovered) 1 hour, or until the chicken is fully cooked; cool. (It's done when you cut into the center and there is no pink.)
Remove the chicken from the pan and transfer it to a large cutting board; slice it very thinly across the grain, then transfer it back into the pan it was cooked in to soak up the juices (the chicken can be refrigerated this way for up to 3 days before continuing with the rest of the recipe, or you can continue after 10 minutes).
Coat the bottom of a large skillet over medium-high heat with oil. Once hot, add the sliced chicken and sauté until crispy and golden brown (you may need to sauté the chicken in two or three batches so the pan isn't overcrowded).
Spread some Garlic Mayonnaise in the center of each piece of bread; add some chicken and pickles (and any other vegetables you like) and roll it up.
Toast the sandwiches on a dry griddle or a flat sandwich press so that the bread gets golden brown and slightly crispy.
Serve as is, or cut into small rounds; serve with additional Garlic Mayonnaise for dipping.
For Pickles:
Combine the 1 cup (250 ml) hot water, salt, and sugar in a large measuring cup with a pour spout; stir until the salt and sugar are completely dissolved and then cool to room temperature.
Sterilize a 1-liter (1.06 qt) canning jar.
Cut the cucumbers into spears by cutting them in half lengthwise, and then cutting each half lengthwise into 3 equal pieces.
Put 1 clove of garlic in the bottom of the jar, add the cucumber spears, and then add the other clove of garlic on top.
Pour in the water/salt/sugar mixture, then add enough purified water so that the
cucumbers are completely covered, leaving about 1 inch (2.5 cm) of free space at the top.
Let the jar sit at room temperature to form pickles. The pickles are ready to eat when the cucumber turns khaki green in color, and they smell faintly of vinegar. This will take about 5 to 7 days in hot weather and 15 to 20 days in colder weather.
Once the pickles are ready to eat, drizzle in the oil and store refrigerated.
For Garlic Mayonnaise:
Crush the garlic and salt in a mortar and pestle until it forms a smooth paste.
Whisk together the garlic paste and egg until well blended.
Add the oil, drop-by-drop, while whisking (after you've added 1 tablespoon of oil
drop-by-drop, you can add the oil a little faster). Make sure the oil you add is fully
incorporated before adding any more.
Once you've added ½ cup (125 ml) oil, alternate between gradually adding the oil and lemon juice and continue mixing until fully incorporated.
Add the cold water and mix until smooth and creamy.
Check out the other participants spiced chicken shawarma wraps:
Jeanette – Jeanette's Healthy Living
Amanda – Fake Ginger
Gina – Running to the Kitchen
Joanne – Eats Well With Others
Heather – Girlichef
Natasha – Five Star Foodie
Megan – What's Megan Making
Rachel – Baked by Rachel