This stuffed ground chicken fajita spaghetti squash is packed full of flavor and is super easy to make! Made with ground chicken, flavorful spices, peppers, onions, and stuffed into a soft roasted spaghetti squash. Trust me, you'll love this low carb healthy dinner that is perfect for any day of the week.
If you're looking for a flavorful way to start the year I have you covered with this STUFFED ground chicken fajita spaghetti squash!
This is a fun low-carb spin on my popular One Pot Ground Chicken Fajita Pasta recipe! It is one of my most popular recipes BUT I knew a few of my friends out there would love a low-carb spin.
I'm also a huge lover of all things ground chicken and couldn't wait to make a new recipe with spaghetti squash that included big-time flavor and ground chicken.
The recipe instructions tell you how to roast the squash but if you're looking for a time save don't forget you can follow my How to Cook Spaghetti Squash in the Microwave tutorial!
Trust me, if you're looking to start your year with a tasty meal this dish has you covered!
What is spaghetti squash?
If you're new to the world of the squash you'll want to get acquainted pretty quickly!
Spaghetti squash is a medium-sized squash that typically harvested around early fall but can be found in the grocery store almost year-round.
When cooked the inside of the squash is easily shreddable into long skinny strands that are reminiscent of angel hair pasta.
Does spaghetti squash taste like pasta?
No, but texturally it can be very similar.
While it is still squash it's a great replacement for paste. Especially if you are on a lower-carb diet.
Plus, in my opinion, it's actually pretty darn delicious.
Ingredients for ground chicken fajita spaghetti squash:
Spaghetti squash – This is the low-carb ingredient for this dish. It's roasted in the oven before stuffing and then comes together for a low-carb pasta like dish.
Ground chicken – I LOVE all things made with ground chicken because it's low in fat and can hold up to lots of flavor. For this dish it gives us the protein boost we are looking for in a main course recipe.
Bell peppers – I used red and green because they are usually what I have on hand but in reality you can use whatever color bell peppers you happen to have on hand.
Onion – I used a red onion for this dish but you could easily use a sweet, yellow, or even white onion if that is what you have on hand.
Spices – Because I'm looking to create fajita like flavors I used a mix of chili powder, garlic powder, onion powder, cumin, smoked paprika, cayenne pepper, and crushed red pepper flakes. If you're not a fan of heat you can back off on the addition of both cayenne and red pepper.
Salsa – I used a store bought chunky style salsa that was heavy on the tomato. Think jarred salsa vs. fresh chunky salsa.
Cheese – I used a Mexican blend which is a mix of Monterey Jack, Cheddar, Queso Quesadilla and Asadero cheeses.
Do I have to roast the spaghetti squash?
Yes and no.
If you have a microwave you can follow my how to cook spaghetti squash in the microwave tutorial.
That will show you an easy way to cook the spaghetti squash without having to roast it in the oven.
If you don't have a microwave you'll have to roast the squash as instructed in the recipe.
Even if you opt to microwave the squash you'll still want to pop it under the broiler or in a hot oven to help melt the cheese for the topping.
Can I cook the squash a head of time?
Yes!
The biggest thing is that you want the squash warm for serving the dish.
So you'll want to reheat the squash, stuff it with the filling, and then bake to help warm it more and melt the cheese.
You can also scoop out the flesh and mix the whole dish together in one large pan if you're not in the mood to stuff the squash and bake.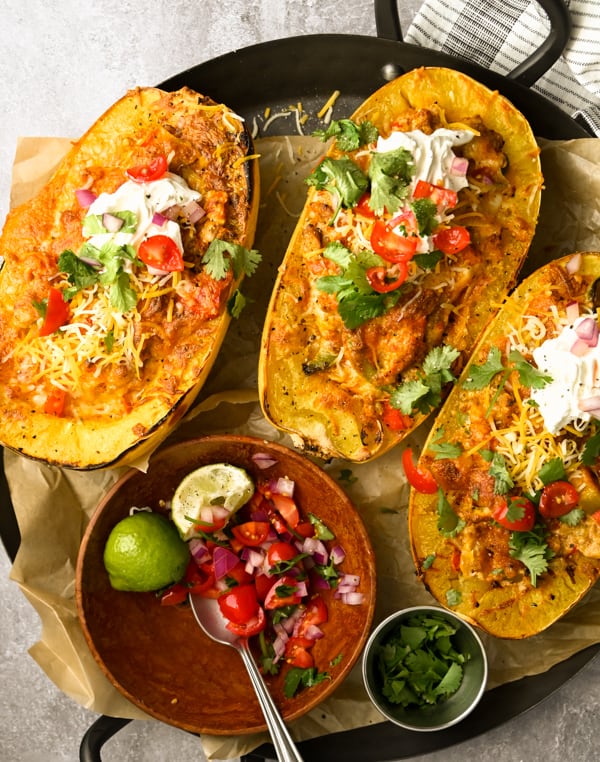 How can I change this recipe?
Not a fan of ground chicken or don't have it on hand? You can easily sustitute any other type of ground protein – ground beef, ground pork, or even ground turkey.
Want to make this dish even more next level? Try mixing in 8 ounce of cream cheese to the meat mixture before stuffing the squash. This will result in a super creamy mixture that pairs together so lovely with the spaghetti squash.
If you're not a fan of cream cheese you could also stir in some Greek yogurt or sour cream.
How do I store leftover stuffed spaghetti squash?
Store any leftovers in an airtight container for up to 3 days. You can opt to store the squash full in the squash shell (if you have a whole half left) or scoop it out and store.
To reheat you can microwave OR heat an oven to 350 degrees F. and heat in the oven for 15-20 minutes or until warmed.
Love this ground chicken fajita spaghetti squash?
Why not try a few of my other delicious easy to make recipes?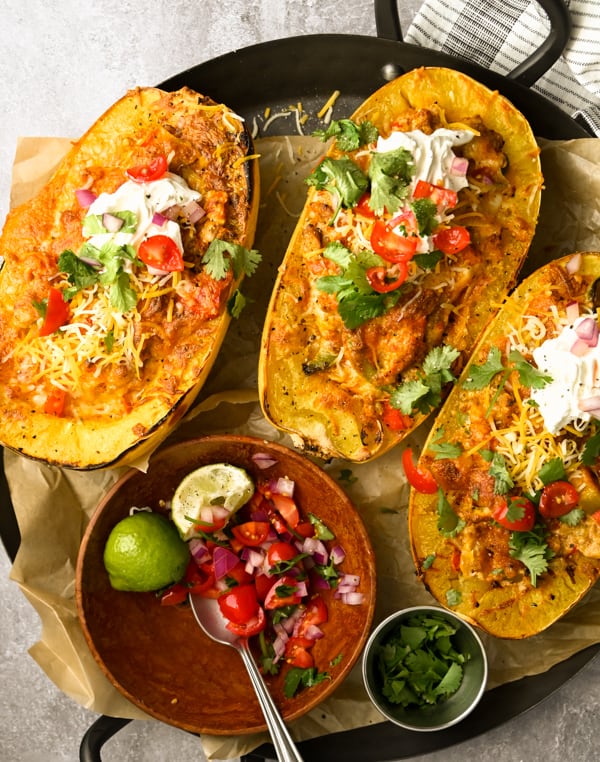 Ground Chicken Fajita Spaghetti Squash
Total Time:
1 hour
20 minutes
Ingredients
For squash:
2 small spaghetti squash, about 1-1/2 pounds each
3 tablespoons olive oil
Kosher salt, to taste
Black pepper, to taste
For filling:
1 pound ground chicken
1 green bell pepper, cored and thinly sliced
1 red bell pepper, cored and thinly sliced
1 red onion, peeled, trimmed, and thinly sliced
2 tablespoons chili powder
1 teaspoon kosher salt
1 teaspoon garlic powder
1 teaspoon onion powder
1 teaspoon cumin
1/2 teaspoon smoked paprika
1/4 teaspoon cayenne pepper
1/4 teaspoon red pepper flakes
1-1/2 cups chunky salsa, store bought
3 cups Mexican blend cheese, divded
For topping:
1 cup sour cream, divided
1/4 cup chopped cilantro, divided
1/4 cup chopped tomatoes, divided
1 lime, cut into wedges
Instructions
For spaghetti squash:
Preheat your oven to 425 degrees F.
Cut your spaghetti squash into two halves. If you have trouble cutting it, pierce it with a fork and microwave it for 3-5 minutes on high. That'll make it much easier to cut through. But, make sure to pierce it with a fork so that it doesn't explode!
After cutting your spaghetti squash, remove the seeds and discard them.
Drizzle with olive oil and generously coat with salt and pepper.
Place them face down on a rimmed baking sheet, add a splash of water to the baking sheet, and cook for about 30-40 minutes or until the sides are easily pierced with a fork.
When the squash is tender and fully cooked remove it from the oven and set it aside.
For topping:
While the squash bakes, add a 12-inch skillet with 1 tablespoon olive oil over medium-high heat.
When the oil is hot add the ground chicken, bell peppers, onion, chili powder, kosher salt, garlic powder, onion powder, cumin, smoked paprika, cayenne pepper, and red pepper flakes.
Cook for about 10 minutes or until the chicken is cooked through and no longer pink.
Stir in the salsa and 1-1/2 cups of Mexican-blend cheese.
Remove from heat.
Fill the cavities of the spaghetti squash with the chicken fajita mixture, top with the remaining Mexican cheese blend, and return to the oven for ten minutes.
When the cheese on top is melted and browned remove it from the oven and top it with the desired toppings.
For serving:
Top each squash equally with sour cream, chopped cilantro, tomatoes, and lime wedges.
Serve and enjoy!
Notes
If your spaghetti squash is still firm after baking put it back into the oven for another 10 minutes, and add a splash of water to the baking sheet, depending on the size of your squash it may need additional cooking time. Remove it from the oven when you can push a fork into the skin easily.
If you can't cut through your spaghetti squash pierce the skin with a fork, and microwave it on high for 3-5 minutes, it'll be way easier to cut!
Nutrition Information:
Yield:

4
Serving Size:

1
Amount Per Serving:
Calories:

940
Total Fat:

60g
Saturated Fat:

26g
Trans Fat:

1g
Unsaturated Fat:

28g
Cholesterol:

235mg
Sodium:

1976mg
Carbohydrates:

56g
Fiber:

13g
Sugar:

25g
Protein:

55g
This website provides approximate nutrition information for convenience and as a courtesy only. Nutrition information can vary for a variety of reasons. For the most precise nutritional data use your preferred nutrition calculator based on the actual ingredients you used in the recipe.