These sweet little pomegranate molasses glazed Cornish hens are the perfect addition to your dinner table. They are full of pomegranate and molasses flavor.
So the Olympics started. I'm not gonna lie, I don't hate the Olympics but they are not my favorite thing either. I often times watch and just say over and over again "how would anyone figure out they were good at this?" Seriously, at one point in your life would you ski off a giant slope and fly into the air? Or cross country ski and then shoot at targets? It just seems so random. Last night I watched this long distance cross country ski race and I watched the skiers go over the finish line and collapse onto the ground. Umm….no. Any sport that requires I give it so much energy that I collapse afterwords is no sport of mine. I'm more into the type of sports that require comfortable clothing, good food and beer. Does this sport exist?
Speaking of good food (see that segue!) I made these beautiful Cornish hens a few weeks ago and I had to share them with you. I grew up eating molasses slathered on my roast Cornish hens and I love the sweetness it gives the skin. I switched it up just a little by making a pomegranate molasses but you still get that sweet flavor. The skin was crispy and delicious, and even though know I better, I ripped it off and ate it first. Don't judge me. Crispy skin is amazing…you know it's true!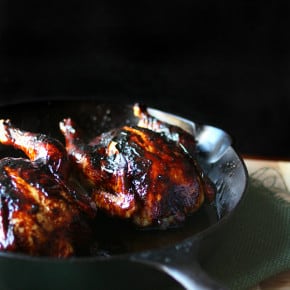 Pomegranate Molasses Glazed Cornish Hens
These sweet little pomegranate molasses glazed Cornish hens are the perfect addition to your dinner table. They are full of pomegranate and molasses flavor.
Yield: 2 servings
Prep Time: 30 minutes
Cook Time: 1 hour 30 minutes
Total Time: 2 hours
Ingredients:
2 (2 pounds each) Cornish hens, cleaned and giblets removed
Kosher salt, to taste
Ground pepper, to taste
1-1/2 cups pomegranate juice
2 tablespoons red wine vinegar
3 tablespoons molasses
Directions:
Pre-heat you oven to 350F degrees.
Clean Cornish hens, blot with paper towels to remove excess moisture, and add to a cooking dish or cast iron skillet. I used a 10 inch skillet for 2 Cornish hens.
Sprinkle the skin with a desired amount of kosher salt and pepper. I like to season mine somewhat heavy. This adds lots of flavor to the skin so keep that in mind.
Add Cornish hens to preheated oven.
In a small to medium sized high sided non-stick skillet add pomegranate juice, vinegar and molasses. Gently whisk together and simmer over medium-low heat. If the mixture starts to foam you can skim. At this point it's easiest to change to a silicone spatula because the glaze is sticky.
Once the mixture is thick and reduced remove from the heat. Make sure to keep an eye on the glaze while it's cooking as it can burn easily. Also, the ideal texture for the reduced glaze should be thick enough to brush onto the meat but not so thick that that you cannot spread it over the Cornish hens. About the consistency of honey.
Add the chickens to the preheated oven and cook for about 45 minutes. Remove from the oven and glaze with pomegranate/vinegar/molasses mixture. Add back to the oven, cook for for 15 minutes more and glaze once again. Glaze one final time after another 15 minutes. (If you notice your glaze starting to burn simply tent your chicken with foil and continue with the directions)
After your last glaze cook again for 15 minutes until the Cornish hen is fully cooked. The internal temperature should be around 160-165F. If you notice your chicken cooking faster simply adjust your glazing schedule.
Remove the Cornish hens from the oven and let rest for at least 5 minutes before eating.
Note: The skin on my Cornish hens are a slightly darker than your desired color. I went and took a phone call while they were cooking and they darkened quicker than I expected. Just a friendly warning!