This spicy Thai pumpkin soup is ready in just 30 minutes and is packed full of flavor. It's super creamy and made with coconut milk, curry paste and tons of other Thai inspired flavors. Serve with all the toppings and devour!
It's pumpkin soup time! Or really it's time for yet another orange soup on Nutmeg Nanny. When I went back and looked at all the soups I have made I realized I need an orange colored soup intervention.
Currently, I have 7 orange soups on the blog. SEVEN! The funny thing is that only 2 of them contain pumpkin. If you're looking for a little orange in your life feel free to give this soup a try OR my 7 other soups:
Ok, really I think I might need an intervention with carrot soups. Apparently, I have a thing. Who knew I loved carrots so much?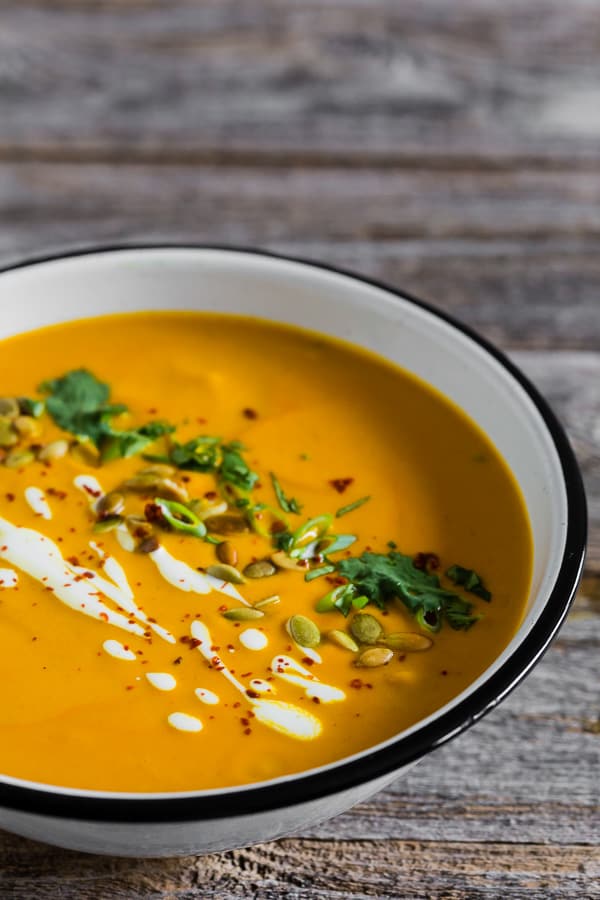 I guess the good thing about this spicy Thai pumpkin soup is that it's simple to make, is silky smooth and ready in literally 30 minutes.
If you're not a huge fan of spice you can always tone it down by adding a little less chili garlic sauce. BUT I happen to think it's not overly spicy so you shouldn't be all "mouth on fire" even if you follow the recipe as written.
For serving, I really love to throw on all. the. toppings. because I'm always looking for a little texture with super smooth soups.
Oh, and for blending, I used my Vitamix which comes with a 64-ounce container. I'm not sure how large a normal blender is but if it's not that big I would blend the soup in 2 batches.
There is nothing worse than hot soup all over the kitchen. Trust me, it's happened to me before when I forgot to put the lid on the blender.
Ugh, huge mess.
Oh, and don't worry if you hate canned pumpkin puree. If you make your own it still works perfectly in this soup.
Looking for more delicious soup recipes?
Try my Chicken Avocado Cilantro Lime Soup, Creamy Red Lentil Carrot Soup, Creamy Roasted Carrot Soup or my Cream of Roasted Asparagus Soup.
Spicy Thai Pumpkin Soup
This spicy Thai pumpkin soup is ready in no time! Canned pumpkin, coconut milk, curry powder and red pepper come together in one simple soup.
Yield: 4 servings
Prep Time: 10 minutes
Cook Time: 20 minutes per batch
Total Time: 30 minutes
Ingredients:
1 tablespoon olive oil
1 small yellow onion, diced
2 tablespoons red curry paste
1 tablespoon grated garlic
1 tablespoon grated ginger
1 tablespoon lemongrass paste
1 tablespoon chili garlic sauce
1 teaspoon curry powder
1/2 teaspoon turmeric
1 (15 ounce) can pumpkin puree
1 (13.5 ounce) can coconut milk
1-1/2 cups vegetable stock
1/2 lime, juiced
Kosher salt, to taste
Minced cilantro, for topping
Minced green onions, for topping
Pumpkin seeds, for topping
Greek yogurt, for topping
Directions:
In a medium-sized soup pot add olive oil and set over medium-high heat.
Add onion and saute for 5 minutes or just until it starts to slightly soften.
Stir in the red curry paste, grated garlic, grated ginger, lemongrass paste, chili garlic sauce, curry powder, and turmeric. Mix to combine and take off the heat.
Add the mixture from the pan to a high powered blender along with the pumpkin puree and coconut milk. Puree until smooth.
Add the pureed soup mixture back to the soup pot and turn the heat to medium-low. Stir in the vegetable stock and let the soup heat through, about 10 minutes.
Stir in the lime juice, taste and add kosher salt if needed.
Serve topped with minced cilantro, minced green onions, pumpkin seeds, and a drizzle of Greek yogurt.